Win 100 Hours of Heat with Our Hotteeze Giveaway
Friday, 11 January 2019
It's always a struggle to stay warm as winter approaches, but we want to help you combat the chill as quickly and as easily as possible so that you don't have to forego your exercise regime.
To help with this, we're giving away 100 hours of heat with our handy Hotteeze Hand Warmer giveaway over on Twitter! Read on to find out how to enter, and how Hotteeze products can help you stay warm whether you're out for a run, using an outdoor gym, or even just power-walking your way to work.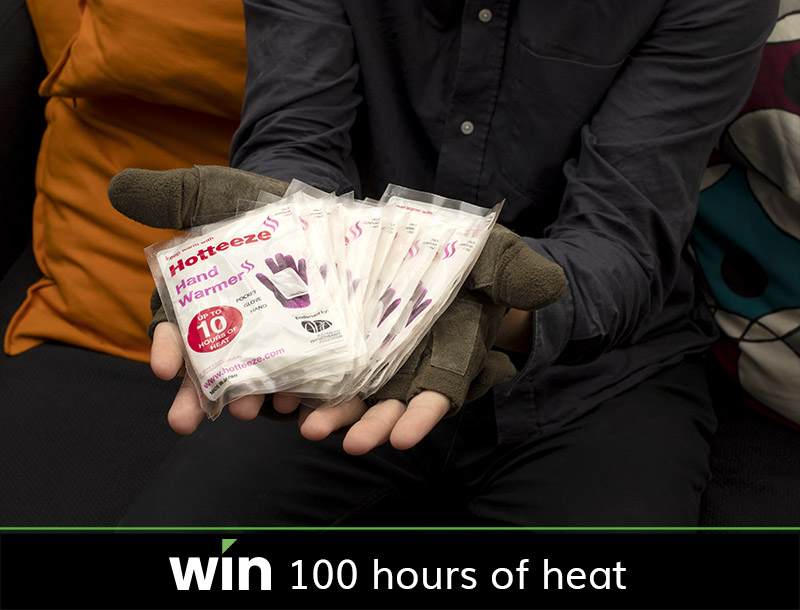 What Are Hotteeze Hand Warmers?
Hotteeze Hand Warmers are one of the great offerings from Hotteeze, a brand specialising in providing compact, practical, and effective products that provide you with instant warmth. With products ranging from hand warmers and foot warmers to self-adhesive heat pads for use on your body, they're a perfect pocket-sized companion during winter.
Hotteeze Hand Warmers are thin pads that can be held in the hand, tucked into a glove, or slipped into a pocket, and are activated by simply opening the packet. Each Hand Warmer pad will begin to produce heat at an average temperature of 63°C (145.4°F) and will continue to work for up to 10 hours. The Hotteeze Hand Warmers are provided as a single hand warmer and in a pack of ten hand warmers, and it's the pack of ten Hotteeze Hand Warmers we've decided to give away today so that we can provide you with up to 100 hours of heat wherever and whenever you need it most!
How to Enter Our Hotteeze Giveaway
We know that when winter arrives, often without warning, you need to find an approach to easing the bitter chill as quickly and as stress-free as possibly. That's why we've ensured that entering this giveaway can be as straightforward for you as possible.
All you need to do to enter is head on over to Twitter and retweet this tweet with the comment #WinterSports. That's it! Share the tweet with your friends and followers to enter the giveaway, and at the same time you'll be spreading the word about the wonders of Hotteeze for fellow outdoor athletes and commuters braving the daily journey to and from work!
Giveaway Rules
This is the boring bit, but we need to mention a few rules, or terms and conditions, for the giveaway to ensure that everybody is given a fair chance. The following Ts and Cs apply:
The giveaway for one pack of ten Hotteeze Hand Warmers will run from Friday 11th January 2019 to Sunday 20th January 2019 inclusive. Retweets after this date will not be entered into the giveaway.
To enter the giveaway, the relevant tweet (here) must be retweeted by the user for the entry to be counted.
The giveaway is open to UK residents and individuals with a UK address as we are only able to ship the giveaway item to a UK address. Entrants must be 18 or over and/or have the homeowner's permission to provide us with a suitable delivery address in the event that they win the giveaway.
The winner of the giveaway will be drawn by a random online generator and subsequently announced on our Twitter page on Monday 21st January 2019.
There will only be one winner, and the winner will receive one pack of ten Hotteeze Hand Warmers.
By entering the giveaway, you accept that, once the winner has been selected using the online random generator, the decision is final.
If you have any questions about the giveaway, Hotteeze products, or anything else, drop us a tweet over on Twitter! We're here to help, and we love discussing innovative and practical products that can help us all move forward with managing the cold.