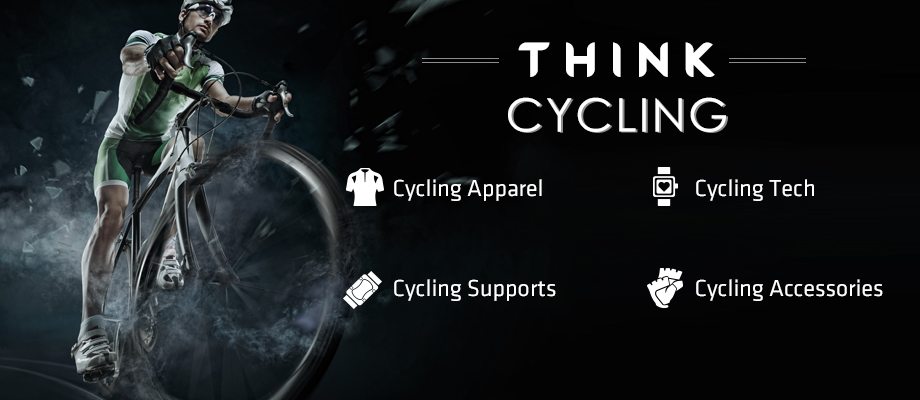 Whether you are a Tour de France level, 100-mile cycling fanatic or simply someone who's sick of getting the bus to work everyday, Think Cycling has everything that you need! We have a range of clothes that will have you looking fresh and performing at your best, supports and braces that can help you prevent and recover from injuries, and basically anything else you need too!
Want to know more about a specific product or range? Why not get in touch with our team of sports experts on 020 7501 1100. Make the smart choice and Think Cycling!

When you're choosing your cycling apparel, is it better to have clothes that look good or clothes that perform well? It's a trick question of course, because here at Think Sport we've got it all, regardless. Whether you're looking for jerseys or jackets, shorts or tights, socks or shoes, you'll find it all here.
Shop Now
---

If you've ever suffered from a knee or ankle injury, you will know the negative impact that it has on your cycling. Aid your recovery and prevent future injury with the Think Cycling range of cycling supports. Including products from all top manufacturers, you can be sure to buy the best brace for your needs.
Shop Now
---

The more you know, the more you can impove. Having data about your performance can be a huge assistance to shaving those minutes and seconds off of your times and ensuring that you are performing as well as you possibly can. Our range of cycling tech allows you to focus on what's most important.
Shop Now
---

At Think Sport, no matter what you need for cycling (water bottles, phone holders, visibility aids, etc.) you can find it in our cycling accessories section. Including a wide selection of things that you don't even know you need yet!