Biking essentials every cyclist needs
Wednesday, 8 August 2018 | Admin
So, you've finally decided to dust off that old bike of yours and hit the road? Just stepping into a bike store can be an overwhelming experience if you're not sure what exactly it is that you're looking for. Fear not. Here at Think Sport, we've prepared a clear and concise guide that will help find out exactly what you need to step up your game and hit your cycling goals for the year.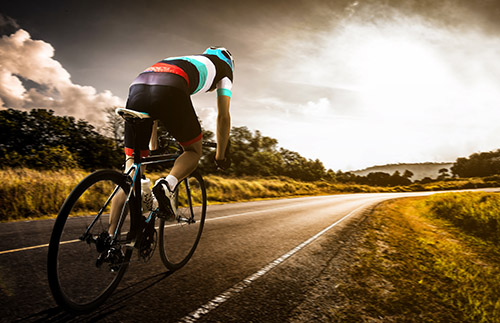 Stay safe by staying visible
Cycling in the dark is nobody's dream, but it's a harsh reality of short winter days and long working hours. At those times, it's essential to keep your safety in mind, and the first step towards that goal is to increase your visibility as much as possible. The Ultimate Performance Eddystone Clip-On LED Light can be clipped onto any item of clothing, providing you with bright light that makes you visible to road users, while the Ultimate Performance Flamborough LED Armband features an incredibly comfortable, lightweight design that's perfect for runners.
Get yourself a first aid kit
Despite our efforts to keep ourselves safe, sometimes the unexpected does happen, so it's best to always be prepared. By always keeping a first aid kit close at hand, you can react quickly and efficiently in an emergency.
Wear knee and ankle supports
With repetitive or competitive cycling, your knees and ankles are most vulnerable to injury, and it's important to give them the special attention they deserve. You need to act before the pain prevents you from enjoying your favourite sport.
Ankle supports, such as the Vulkan AirXtend Ankle Support or the Ultimate Performance Ankle Support, provide firm, even support, while maintaining a full range of motion. If you're experiencing knee pain, supports like the Ultimate Performance Elastic Knee Support will keep your knees stable and fluid, minimising the risk of a sprain or any other injury.
Make sure you stay hydrated
Hydration is extremely important during any activity, but it's especially crucial during your cardio workouts. Riding your bike and drinking at the same time can be quite a hassle, so it's important to think ahead. This amazing Nathan Firestorm Unisex Running & Cycling Hydration Pack features a two litre bladder, along with onboard storage for nutrition and key running essentials or bike tools. If you're looking for a smaller and more budget friendly solution, the Clean Bottle Classic should do the trick.
Wear compression clothing
Compression tops and shorts are a good investment if you're getting serious about your training. They offer excellent muscle support, which leads to reduced soreness and soft tissue damage, as well as faster recovery times. Supacore offers a broad variety of compression clothing for both men and women, including:
Use a foam roller
Foam rolling is a great way to massage and regenerate your muscles after an intensive workout. It improves your blood circulation, helps you relax, and speeds up your recovery process. If you're new to the world of foam rolling, a good place to start would be the Standard Foam Roller. Once you feel confident enough to up the game, you can have fun with the Pro or even the Grooved Pro.
Are you an experienced cyclist or are you just starting out? Share your experiences and thoughts below or find us on Twitter or Facebook.